IDF M3 Halftrack 20mm

1:35 Plastik Modellbausatz , ungebaut und unlackiert

Hersteller : DRAGON
Nicht geeignet für Kinder unter 14 Jahren
Farben und Klebstoff nicht enthalten, werden zur Fertigstellung benötigt.
Dragon now has an impressive number of Israel Defense Forces (IDF) M3 halftracks in its line-up, with yet another interesting version joining the 1/35 scale family. The newest one features an M3 fitted with a Hispano-Suiza HS.404 20mm cannon. Indeed, it differs from the previously released M3 with TCM-20 antiaircraft gun. Rather, the newer kit has a single HS.404 mounted in the rear compartment so the weapon could be employed for direct-fire support. This 1/35 scale kit represents an Israeli M3 with the HS.404 20mm weapon precisely detailed. The pintle mount and base are brand new elements, as is an associated travel lock. The rest of the troop compartment, with seats and stowage bins, is accurately depicted. Furthermore, there is a generous selection of photo-etched parts to recreate the vehicle. As usual a series of backpacks and personal kit made from DS are supplied. This Israeli M3 halftrack kit offers considerable firepower and appeal!

Features

- 20mm HS.404 Cannon
- New Travel Lock
- New Pintle Mount
- Detailed fighting compartment
- Wheels and suspension w/full details
- Photo-Etched box and rack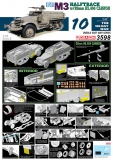 Diesen Artikel haben wir am Samstag, 24. Februar 2018 in unseren Katalog aufgenommen.