8,8cm PzSchreck 43/54 auf Universal Carrier 731(e) . World War II.
1:35 Plastic Model Kit , unbuild & unpainted
Producer : RIICH
Not suitable for children under 14 years.
The Universal Carrier was a small, lightly armoured weapons carrier that entered service with the British army in 1940. It was very cheap to build as it used standard truck engine and transmission components, It was built in huge numbers and during the course of the war many were captured by the the Germans and pressed into service. In 1943 the Germans produced the 8.8cm
Panzerscreck 43/54 which was based on captured American 'Bazooka' anti-tank rockets. The German version was larger and more powerful. In 1944 some captured Universal Carriers were specially adapted to carry the weapon, these being designated the Panzerjäger Bren 731 (e) mit 8.8cm Raketenpanzerbüchse Panzerschreck 43/54. These mounted three launchers over the engine compartment and ammunition bins were positioned on the rear hull. It is not known how many vehicles were converted but the Panzerjäger Bren 731(e) was used in Italy and later in France after D-Day. The Panzerschreck 43/54 could penetrate 230mm of armour and was capable of
destroying most Allied tanks of the period. However like all weapons of this type the rocket could be detonated prematurely by vehicle stowage and rendered ineffective.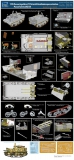 Customers who bought this product also bought the following products:
This Product was added to our catalogue on Thursday 09 August, 2018.