Australian ASLAV25 PC Phase 3
The ASLAV-PC armored personnel carrier is a member of Australian armored vehicles family. This vehicle is generally based on the Canadian Bison APC.
The Vehicle is powered by the Detroit Diesel 6V53T diesel engine, developing 275 horsepower. It is capable of either four or eight wheel drive. The ASLAV-PC is fully-amphibious with 3 minute preparation.
The standard machine gun pintle mount is replaced by a M151(RWS) which can accommodate either a 12.7 mm machine gun or a Mk19 40mm automatic grenade launcher
1:35 Plastic Model Kit , unbuild & unpainted
Producer : TRUMPETER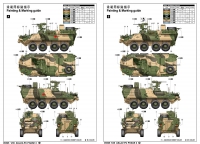 This Product was added to our catalogue on Thursday 27 February, 2014.