Special DRYBRUSH Brush.
The soft and thick hair allows the modeler to make a controlled dry brush effect.
Just use any type of paint, and dry the hair on a non-residue paper or cloth.
Apply the paint onto the reliefs by rubbing the details to obtain volume.
Recommended for bases, buildings, waragame figures, tracks, etc.
Producer : AK Interaktive
Not a Toy ! Not suitable for children under 14 years of age.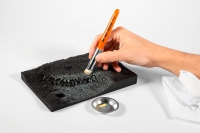 Customers who bought this product also bought the following products:
This Product was added to our catalogue on Wednesday 02 June, 2021.