1:35 Kits and Accessories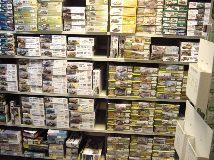 In the Main Military Scale of 1:35 you will find Tanks and Military Vehicles and all kind of Accessories.
More sub catagories:
1:35 Aircraft, Pilots, Accessories

Here you will find Aircraft , Helicopters, Missiles, Fying Bombs. Also Figures of Pilots , Mechanics, Groundcrew and Vehicles to serve Aircrafts.