Old and Weathered Wood Set 2

This set contains a collection of 6 acrylic 3Gen paints that are specially selected to represent different warm wood tones and to get several effects of weathered and old wood.
In combination with Vol.1 you can represent any type of wood.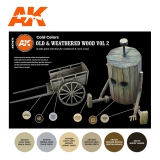 Recommended products:
This product is compatible with:
Customers who bought this product also bought the following products:
This Product was added to our catalogue on Wednesday 29 May, 2019.