GAUGE 0 Scale 1:43,5 / 1:45 MAKO Ready Build and Painted Figures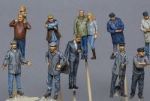 Here you will find some figures, models, painted in different ways by myself, Manfred Kohnz. The technics I use are shading by paint, Glazes or Airbrushing.
Every figure or model is an Unicat itself.,
May they can be interesting as a sample for your own works or for you as an Collector.
If you like we can also make you an offer for your own special painting, finishing whishes !?
| | |
| --- | --- |
| Show 1 to 20 (of in total 59 products) | Sites: 1 2 3 [next >>] |
69,00 EUR

( 19 % VAT incl. excl. Shipping costs )

Shipping time: 3-4 Days

69,00 EUR

( 19 % VAT incl. excl. Shipping costs )

Shipping time: 3-4 Days

69,00 EUR

( 19 % VAT incl. excl. Shipping costs )

Shipping time: 3-4 Days

69,00 EUR

( 19 % VAT incl. excl. Shipping costs )

Shipping time: 3-4 Days

75,00 EUR

( 19 % VAT incl. excl. Shipping costs )

Shipping time: 3-4 Days

75,00 EUR

( 19 % VAT incl. excl. Shipping costs )

Shipping time: 3-4 Days

69,00 EUR

( 19 % VAT incl. excl. Shipping costs )

Shipping time: 3-4 Days

Our previous price 109,00 EUR
Now only 80,00 EUR
you save 27 % / 29,00 EUR

( 19 % VAT incl. excl. Shipping costs )

Shipping time: 3-4 Days

89,00 EUR

( 19 % VAT incl. excl. Shipping costs )

Shipping time: 3-4 Days

109,00 EUR

( 19 % VAT incl. excl. Shipping costs )

Shipping time: 3-4 Days

69,00 EUR

( 19 % VAT incl. excl. Shipping costs )

Shipping time: 3-4 Days

69,00 EUR

( 19 % VAT incl. excl. Shipping costs )

Shipping time: 3-4 Days

69,00 EUR

( 19 % VAT incl. excl. Shipping costs )

Shipping time: 3-4 Days

69,00 EUR

( 19 % VAT incl. excl. Shipping costs )

Shipping time: 3-4 Days

49,00 EUR

( 19 % VAT incl. excl. Shipping costs )

Shipping time: 3-4 Days

49,00 EUR

( 19 % VAT incl. excl. Shipping costs )

Shipping time: 3-4 Days

49,00 EUR

( 19 % VAT incl. excl. Shipping costs )

Shipping time: 3-4 Days

49,00 EUR

( 19 % VAT incl. excl. Shipping costs )

Shipping time: 3-4 Days

49,00 EUR

( 19 % VAT incl. excl. Shipping costs )

Shipping time: 3-4 Days

69,00 EUR

( 19 % VAT incl. excl. Shipping costs )

Shipping time: 3-4 Days
| | |
| --- | --- |
| Show 1 to 20 (of in total 59 products) | Sites: 1 2 3 [next >>] |