Model Railroad Gauge 1 1:32 scale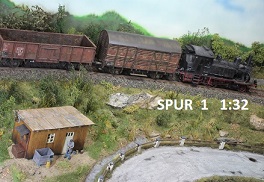 More sub catagories:
Model Railroad Gauge 1 / 1:32 compatible

Few off our products kann also be used by Model Rail Roaders in 1:32 scale.

The Figures have much more fine details and the hight is around 1,65m - 1,75m in reality.

GAUGE 1 MAKO Ready Build Models and Painted Figures

Here you will find some figures, models, painted in different ways by myself, Manfred Kohnz. The technics I use are shading by paint, Glazes or Airbrushing.

Every figure or model is an Unicat itself.,

May they can be interesting as a sample for your own works or for you as an Collector.

If you like we can also make you an offer for your own special painting, finishing whishes !?