E-100 Versuchspanzer mit Krupp Turm
1:35 Plastik Modellbausatz , ungebaut und unbemalt.
Hersteller : TRUMPETER

Nicht geeignet für Kinder unter 14 Jahren
Farben und Klebstoff nicht enthalten, werden zur Fertigstellung benötigt.
Development of E-100 super heavy tank started around June 1943. By 1944 when Hitler ordered all super tank development work to be halted, the Adler company had partially built a prototype but it was never finished. The remains fell into Allied hands in April 1945 and were later transferred to the British Army, eventually being dismantled for scrap.
Item No
09543
Item Name
E-100 Heavy Tank – Krupp Turret
Bar Code
9580208095431
Scale
1:35
Item Type
Plastic Model Armor Kit
Model Brief
Length: 311.8mm Width: 127.7mm
Total Parts
250+
Metal Parts
n/a
Photo Etched Parts
1 piece
Film Parts
n/a
Resin Parts
n/a
Total Sprues
6 sprues , upper hull , lower hull , turret and tracks
Released Date
2018-05
More Features
The kit consists of over 250 parts
>the kit w/refined detail
>multi-slide moulded lower hull ,upper hull and turret
>rubber tracks
>photo etched parts included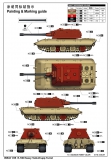 Kunden, die diesen Artikel kauften, haben auch folgende Artikel bestellt:
Diesen Artikel haben wir am Samstag, 16. Juni 2018 in unseren Katalog aufgenommen.