Screw post WW I long and medium type WW I +

20 pieces

1:35 RESIN Kit , unbuild and unpainted.
Producer : Resicast
Not suitable for children under 14 years of age.
Resicast Original Text:
Times are a changing ...Resicast is a one man business and it is getting more and more difficult for me to have my full range of kits available at all time.NEW items will now be produced in limited quantity. Two sets of moulds will be made and once these are used up the kit will go «Temporarely Out of Production» (T.O.P.) for a certain amount of time (the actual length of time will of course depend on sales, requests and work load)Two sets of moulds mean approximately 80 kits.There shall also be some Limited Editions. These will be produced in limited numbers and once these has been sold the kit will NO LONGER be available!This will give me more time to produce not only new items but also to re-issue some older kits.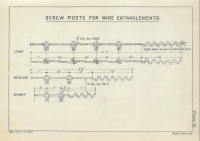 Customers who bought this product also bought the following products:
This Product was added to our catalogue on Saturday 09 July, 2022.