ZEITSCHRIFT
Faszination Spur 1 (1:32) Nr.17 Eisenbahn Kurier Sonderheft

In dieser Ausgabe finden sie einen Baubericht von mir, MANFRED KOHNZ,

welche nicht nur für Eisenbahner interessant sind.

Es geht um Bau und Bemalung einer Echtholz-Scheune von Plus Model.
Die sommerliche Neuheitenschau findet auch ohne das traditionelle Spur-1-Treffen statt. Mit Märklins "Köfferli"-Lok Ce 6/8 I, dem Vectron von KM1 und der 111 von Wunder haben gleich drei höchst unterschiedliche Elloks ihren Auftritt. Die Dampftraktion ist mit der Baureihe 80 von MBW und dem ersten Muster der ELNA 6 von Fine Models ebenfalls gut vertreten. "Großes Kino" verheißt die vorbildgetreue Nachbildung des Heizhauses Retz in 1:32. Außerdem folgt der zweite Teil des Anlagenporträts "Deistelbacher Industriebahn". Um Stützmauern in Vorbild und Modell geht es in der Rubrik Grundlagen. Dazu passend entsteht eine variabel und auch für Ungeübte leicht zu gestaltende Mauer aus Bausätzen, die verschiedenen Zwecken dienen kann. Mit dem "Clever Train Control" wird eine drahtlose Alternative zu den herkömmlichen Digitalsystemen vorgestellt. Weitere Bau- und Bastelbeiträge runden die Palette in Ausgabe 17 ab.
in deutscher Sprache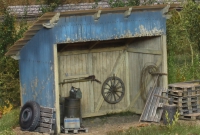 Customers who bought this product also bought the following products:
This Product was added to our catalogue on Friday 25 June, 2021.