ZEITSCHRIFT
Faszination Spur 1 (1:32) Nr.15 Eisenbahn Kurier Sonderheft

In dieser Ausgabe finden sie einen Bericht von mir, MANFRED KOHNZ,

welche nicht nur für Eisenbahner interessant sind.

Thema Figurenbemalung
Zur Herbstsaison rollen mehrere Schlepptenderloks erstmals über die Spur-1-Gleise – darunter so legendäre Maschinen wie die 241-A von Märklin und die 18 201 von KM 1.
Als weitere Neukonstruktionen können die 50.40 (KM1), die Baureihe 97.1 von Fine Models und Märklins V 320 präsentiert werden. Viele Tipps und Tricks werden bei der Alterung von Rungenwagen der Epoche III vermittelt. Außerdem wird gezeigt, wie aus einem Hosenträger-Bausatz eine vorbildgerechte Finescale-Weiche entsteht. In die Rubrik Anlagenbau gehören zwei Module, die zusammen mit den gängigen Spur-1-Modulnormen vorgestellt werden.
Um Technik geht es beim Einbau eines aktuellen Uhlenbrock-Decoders mit Soundmodul von Dietz in ein V 100-Modell. Aus einer anderen (Modell-)Welt stammen hoch detaillierte Automodelle von Klassikern und Exoten im Maßstab 1:32. Eine bemerkenswerte Initiative von Modellbahnern arbeitet daran, die Stromlinienlok der LBE in 1:32 zu realisieren.
in deutscher Sprache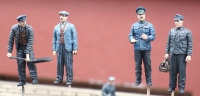 Customers who bought this product also bought the following products:
This Product was added to our catalogue on Friday 05 November, 2021.