360° Tracks for German Schwenkbahnbettung for K5 Leopold WW II
Characteristics
If you like to complete the whole middle rail and turning cirkel or just like the 360°cirkel
alone? This is the box for completing your master piece nr 301 as big as possible.
Application
The turntable consisted of a circular track jfx item 302 with a pivot mount in the center for a platform on which the railroad gun itself was secured. A ramp was used to raise the railway gun to the level of the platform jfx item 304.
1:35 RESIN Kit , unbuild and unpainted.
Producer : JOEFIX
Not suitable for children under 14 years of age.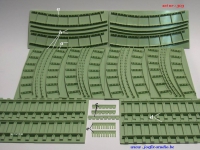 Recommended products:
This product is compatible with:
Customers who bought this product also bought the following products:
This Product was added to our catalogue on Tuesday 08 August, 2017.